Grilled Texas Flank Steak with BBQ Slaw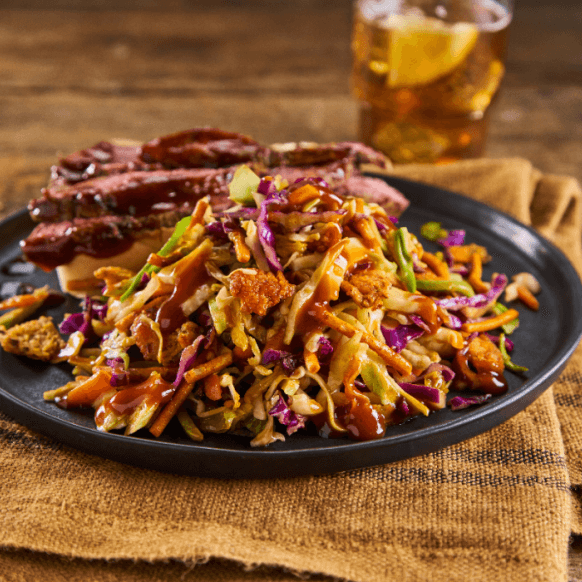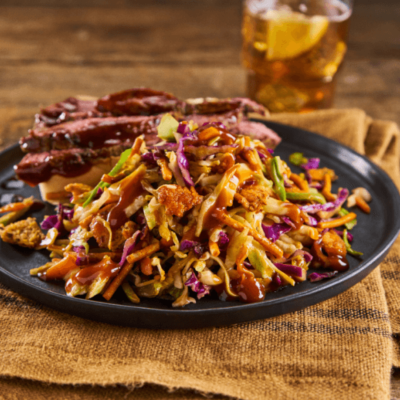 Grilled Texas Flank Steak with BBQ Slaw
Grilled flank topped with your favorite barbecue sauce and served with a creamy barbecue slaw.
Instructions
Combine the chili powder, cumin, salt, pepper and Worcestershire sauce in a small bowl.

Place flank steak into a 13x9x2-inch baking dish. Spread one side of the steak with half of the marinade; turn over and spread with remaining marinade. Let sit at room temperature for 20 minutes.

Cut steak in half against the grain (cut perpendicular to the striated lines that you see in the meat) if it is too large to fit in one piece on your grill pan.

Heat an outdoor or indoor grill to medium-high; oil the grill grate with cooking spray. Add steak and cook, without moving it, for 5 to 6 minute as side or until meat reaches desired doneness (medium-rare is very pink in the center; medium is light pink in the center; well-done is brown throughout).

Transfer the steak to a cutting board and let rest for 10 minutes; slice meat thinly across the grain.

Serve steak brushed with barbecue sauce on top of white bread with Smoked BBQ Sriracha Slaw.
To Make the Smoked BBQ Sriracha Slaw:
Place the Fresh Express® Smoked BBQ Sriracha Premium Slaw Salad Kits® into a large bowl; toss with salad dressing and toppings.